All classes taught by NCBTMB approved Continuing Education providers and are accepted by the Arkansas Department of Health for Continuing Education.
We have several Continuing Education Classes and all are in person classes.   You will find descriptions for each class below.
Classes for our out of state instructors are held at the Omni Center for Truth and Justice in Fayetteville, AR.
All of Brenda's classes are held at the school at 28 S. College #5, Fayetteville, Arkansas.
CE Class Schedule
Date
Class Title
Number of Continuing Education hours
Instructor
Cost of the Class
Payment
Saturday February 4nd, 2023
Enertropic Therapy1
6
Brenda Schwarzbach
$135.00
Saturday February 25th, 2023
Therapeutic FootSpa
6
Brenda Schwarzbach
$135.00
Wednesday March 8, 2023
Massage Cupping
9
James Mally
$185.00
Price includes a set of cups
Thursday March 9, 2023

Cupping Applications

9
James Mally
$170.00

Friday March 10, 2023
Assessment and treatment of Low Back Pain
9
James Mally
$160.00

Saturday March 11, 2023
Nerve Glide Techniques
9
James Mally
$170.00
Saturday May 20, 2023
Thai It Together: Thai Massage Compressions, Wedges, Stretches, & Jostles

8
Jonathan Steinberg
$290.00
Full 100 hour Intensive Creative Healing
100
Brenda Schwarzbach
$2500.00
Beyond Basics Head and Neck
6
Brenda Schwarzbach
$150.00
Beyond Basics Arms and Shoulders
6
Brenda Schwarzbach
$150.00
Creative Healing Hips/Back and Sciatica
12
Brenda Schwarzbach
$275.00
Creative Healing for Women
18
Brenda Schwarzbach
$450.00
Creative Healing for Prenatal Clients
18
Brenda Schwarzbach
$450.00
Back To Basics
100 -all or in part
Brenda Schwarzbach
2000.00
Continuing Education classes hosted by the Black Brook School of Massage
Enertropic Therapy February 4th, 2023
Enertropic Therapy – Upper Body Basics 6-hour class
Ener  = Energy
tropic  = movement in response to a stimulus.
This continuing education class is based upon the work of Ron Spilker who designed this neuromuscular work around 1990.  I was an apprentice with Ron and worked with a Dr. in Harrison ,Arkansas doing 'ET' for about two years before attending massage school.  Primarily used to diffuse pain and relax the musculature Enertropic Therapy is a system similar to putting reflexology together with trigger points and guided movement to stretch the fascial lines.  It is quick and efficient.
The Basics class will introduce you to the history of this work, pattern system as a whole and the primary locus points and techniques used to relieve pain and spasm from two of our most commonly requested areas, the shoulder girdle and low back.
Using finger pressure to access a unique pattern of locus points on the body gives you a wonderful way to release pain held in the tissue with less work.
An advanced class is also available with a deeper understanding of the system and how to work with the organs and extremities.
You will need your linens only.  The school has tables.  This work is also done with clothes on.  You only remove your socks, so please wear something soft so we don't have to fight our way through jeans.
This class is held at Black Brook School of Massage  28 S. College #5  Fayetteville, AR 72701
Therapeutic Foot Spa Class February 25, 2023
Therapeutic Foot Spa – 6 hour class – 10:00 – 5:00
Therapeutic FootSpa is a great add on for your clients and is also a fun way to get your Continuing Education hours.
The class is in two parts
Part one is the spa which includes brown sugar scrub and peppermint foot wrap and Reflexology relaxation techniques.
Part 2 is Exercises for the feet and Creative Healing and Soft Tissue Release for working with bunions, sprains, sciatic pain in the feet swollen ankles, plantar fasciitis and pain in the heel.
You will need to bring: 3 hand towels, two bath towels, 2 wash cloths and a basic for hot water.  You will also need your linens.
You will not need to bring your table.
What to Bring
Continuing Education Classes for Dr Mally this year will be held at the Omni Center in Fayetteville, Arkansas.
The address is: 3274 N. Lee Ave.  Fayetteville, AR 72703
For each of the classes you will need to bring
Your table (or arrange with a friend so you can share).
Linens, fitted sheet, top sheet, face cradle cover.
Wear or bring athletic clothes so we don't have to change clothes

sports bra for women
shorts

Your lotion or oil.
Cups if you are taking the cupping applications class

Additional cups may be available for purchase.
You will have 45 minutes for lunch and there are plenty of places.
If you need a hotel for the class there are several nearby.
Excellence in Continuing Education
The Black Brook School is so glad to have Dr. Mally back in Arkansas this March.  His continuing education classes have been very popular and he has a wealth of information and experience that he is more than willing to share with all students.
His classes are filled with pertinent information that you can put to use in your therapeutic practice immediately.  He will keep you on your toes listening for those bits of information that only someone with his degree expertise and experience is able to share.  His dry sense of humor cracks me up and makes his classes a lot of fun.
If you are looking for a continuing education class that is worth your time and help you increase your value as a therapist we offer some of the best classes in the state.
Explore Dr. Mally's other classes on his website.
Thai It Together!
BIO:
Inspired by Thai Massage, Jonathan became a NY Licensed Massage Therapist (LMT) in 2010,  an Arkansas Master Massage Therapist (MMT) in 2017, as well as an LMT in Missouri, Tennessee, and Virgin Islands.   In New York City, his training and experience included Swedish Massage, Shiatsu, Tui Na (a technique derived from Traditional Chinese Medicine), Therapeutic/Rehabilitative Massage, Pre/Post Natal Massage, and Thai Massage. After working 3 semesters at NYC's Pacific College of Oriental Medicine as a Thai Massage Teacher's Assistant, and completing Thai Massage training at Two Souls Thai Massage with Al Turner in Brooklyn NY, he continued his education, training with his teacher's teacher, Ajahn Pichest Boonthumme in Chiang Mai, Thailand.  Jonathan has had the privilege of practicing in multiple states, utilizing all of these techniques in many different settings, such as Chiropractic Doctor's offices, Physical Therapy Clinics, Neurology PT Clinics, spas, fitness centers, chair massage at many corporate events and health fairs, and most recently a proud member of the USTA Massage Team at NYC's US Open Tennis Tournament. In addition to being An Associate Member of Ortho-Bionomy, Jonathan has also completed his 500 hour Advanced Yoga Teacher Training(2020) at Circle Yoga Shala.  Jonathan is grateful for Thai Massage, which has enabled him to maintain a strong and sustainable massage therapy career, and looks forward to sharing his experienced techniques with fellow LMT colleagues. 
Course Description:
This course includes an introduction to Thai Massage principles, such as history, lineage, and Sen Theory, all of which offer a foundation for the practice and application of Thai Massage techniques.
Thai Massage is a clothed stretching and pressing modality, traditionally practiced  on the ground(on a comfortable floor matt), utilizing the therapist's hands, forearms, elbows, feet, shins, knees, and bottom to compress soft tissue and improve joint Range Of Motion.  Practitioners will be expected to move on the ground from various seated, kneeling, and lunging positions.  Thai massage compressions, wedges, stretches, and jostles will be demonstrated and rehearsed in order for therapists to develop their own 60 to 90-minute Supine Thai Massage Treatment or for integration of Thai Massage into table massage treatments. . 
 Thai Massage Required Course Materials
Comfortable clothing for movement(T-Shirt & Sweatpants.  No Shorts)

1 Flat Sheet

Massage Table(will be used at last hour of class)

Thai Massage Matt(provided)

Small Head Pillow for Receiver

Massage Bolster for Receiver

Kneeling Pillow for Practitioner

Thai Massage Manual(Provided)

Notebook 
10.Pen/Pencil(optional)
Creative Healing is a Whole Body Integration system
100 hour Certification Class for Continuing Education
For Massage Therapists and other Practitioners
You may choose a class from 6 to 100 hour continuing education classes depending on your needs and desire for knowledge.  Browse the descriptions below and learn more about what we have to offer.
 Certification as a Stephenson's Method Practitioner is awarded after the entire 100-hour Intensive has been taken and the student can perform a series of treatments correctly.  To receive certification as an instructor the student must take the class twice,  take a practice exam, and be approved by an approved instructor.  In the United States at present, the Black Brook School is the only massage school in the country teaching this modality.
Anyone is able to enroll in our classes.  If you are interested in classes specifically for the 'Gentle Birth Method' we have a 24-hour program that fits this need.
I have put the 100-hour intensive class into 5 blocks.  The 5th block is available only to those who are taking the entire class.  The other 4 modules have portions that may be taken by any massage therapist who would like to get hours in Creative Healing or by those therapists who have already taken the class and want to review certain parts of the class.
Module 1 - Head and neck - 
History, Ethics, Principals, and equipment. Technique applications will include general lymphatic drainage, sinus, and ear congestion, face pain, support for neuralgia in the head, and cosmetic facelift.  Also learn to reduce congestion in the throat, eye support,  headache, and migraine relief.
Module 2 -  Working with releasing the tissue around the spine, pelvis, decongesting the kidneys,  sciatic and leg pain.
Myofascial and lymphatic massage for the back. The Creative Healing application for Sciatica is one I turn to again and again. Some weeks I've used this on as many as 5 clients.
The treatment for sciatica also includes: Nourishing the kidneys, massage and nerve support for whiplash, myofascial movements for helping specific dermatomes.
Of course, the largest part of the class is for relief for Sciatic pain and weakness in the legs,  For the middle part of the back, there are applications for pain between the shoulders and working around the scapula.
Module 3 - arms/ shoulders, knees and feet -  There are separate massage movements for pain in the arms, carpal tunnel syndrome, tennis elbow, golfers elbow, pain in the hands, Dupuytren's contracture, wrist pain, swollen fingers, swollen ankles, sprained ankle, restless leg syndrome, and plantar fasciitis.
Module 4 - The digestive organs, diaphragm, and heart, 
Abdominal Massage for the digestive organs, heart, and diaphragm.  Abdominal toning,  and decongesting the tissue around the Gall Bladder, Liver, Spleen, and Pancreas.  Wonderful relaxing applications for stress, anxiety, depression, shortness of breath.
Relieving stress in the chest, and the diaphragm is great for both men and women.
Module 5 - The Female Treatments - for relieving PMS, prenatal clients, menopause, pain in the lower abdomen, and movements specifically recommended for the Gentle Birth Method. Female disorders, incontinence, and infertility.
​Module 6 - This is a 100-hour certificate student class only.  Asthma, lung congestion, constipation, tailbone, issues of men and boys, children and infant treatments, and treatments for the elderly.  Male issues including stress, infertility, back pain, Issues for children and infants.
 Clinical practice and exams will be scheduled for the completion of this class.  Completion of the certificate class will also allow you to qualify to become a globally recognized Gentle Birth Method Practioner.
Beyond Basics Head, Neck and Sinus's 6-hour class
I teach this class to all of my massage diploma students.
Beyond Basics Head and Neck – 6 hours
Continuing Education classes need to give you information you can use with your clients immediately and be presented in a fun and engaging way.
This class includes:
Introduction
History
Basic concepts and principals
Using a bench and olive oil
General treatment
Headaches and migraines
Sinus, stuffy ears without inflammation
TMJ, Pain in the face, Face lift
Needs for class – hand towel, linens, table, oil​
Beyond Basics Shoulders and Arms 6 hour class
Beyond Basics Shoulders and Arms – 6-Hour  Continuing Education classes
This Stephenson's class combined with Swedish massage addresses the following issues that concern many massage therapists and clients
1. Pain in the arm
2. Unable to raise arm above head
3. Checking for carpal tunnel syndrome.
The Filter beds in the wrist
Ganglions, Throwing the arm away pain, Restless arms
1. Tennis elbow
2. Golfer's elbow
This is also useful for Rotator cuff injury, Wrist and Hand issues,  Dupuytren's contracture
Arthritis,  Jammed finger, Painful thumbs
Discussion for specific issues of arms and hands for massage therapists
You will need a hand towel, bath towel, your linens and your table.
Stephenson's Method for Hips, Back and Sciatica – 12 hour class
Therapists who work with back pain on a frequent basis will find these Continuing Education classes invaluable.
The Creative Healing application for Hips, Back and Sciatica is one that I have use for years for people with acute or chronic Lordosis and sciatica.
The class also includes information and techniques for
Pain in hips, legs, knees and feet
Discomfort in the Kidney region
Twisted hip
How to use the low back and sciatic treatment in prenatal clients
Applications of the sciatic treatment in the elderly with chronic pain issues.
There is ample demonstration and hands on training
Needs for class – linens, table, hand towel,  large bath towel
Creative Healing for Women – 18 hour class
Tthis two day Continuing Education class is a quick introduction to several of the Creative Healing applications
Day 1
Head and Neck and lower back.
Working with the lymphatic system for puffiness and swelling that leads to headaches or low back pain.
Part 2
The Belly and the breath.
Working with the digestive system for optimum and correct elimination.
Releasing the diapraghm for stress relief and relaxation.
Creative Healing for Prenatal Clients 18 hour class

Prenatal Class for CE's
The bulk of the class will be the applications of Stephenson's Creative Healing used for the second and third trimesters.
The Arkansas approved continuing education class includes several of the Creative Healing treatments Dr Gowri Motha ObGyn uses in her Gentle Birth Method Programme in London, England, but does not cover Dr. Motha's philosophy and recommendations outside of the Creative Healing treatments.
Relax and support your prenatal client
Reduce morning sickness symptoms
Optimize digestion and pancreatic function
Increase energy
Boost the immune system
Boost kidney function by stimulating the lymphatic system
Decongest the tissue of the pelvis
If you like to work with prenatal clients who are committed to having a natural birth this is a wonderful class.
Gentle Birth Method Short Course – 24 hour class
In this NCBTMB approved continuing education class, we will explore the philosophy and the foundation of Dr. Gowri Motha ObGyn program. including her thoughts about why she has spent the last 25 years developing Gentle Birth Method. We will touch briefly on diet and nutrition, herbs, and the use of Ayurvedic medicine, reflexology, visualizations and Bowen technique. The bulk of the class will be the applications of Stephenson's Creative Healing used for the second and third trimesters.
The class includes all of the Creative Healing treatments Dr. Motha uses in her Gentle Birth Method Programme in London, England with prenatal clients from all over the world. The applications you will learn will do the following:
Reduce nausea and vomiting
Optimize digestion and pancreatic function
Increase energy levels
Reduce breathlessness
Reduce anxiety and stress
Eliminate back and neck pain
Eliminate sciatica
Stimulate the lymphatic system in all key areas of the body, especially the pelvis
If you like to work with prenatal clients who are committed to having a natural birth this is a wonderful class.  This class is only NCBTMB approved.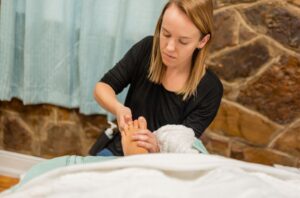 Enertropic Therapy – Lower Body Extended Hands On – 6 hour class
Enertropic Therapy is approved for Continuing Education by the state of Arkansas and the NCBTMB
You must have taken the Upper Body Basics class before attending this one.
Sciatic pain, referred pain and pain in legs and feet will be addressed.
This class will include all 4 patterns and how to link them up by using paired points.
I will also show you how to work as tandem therapists on the same client as well as how to do Enertropic Therapy for self care.
You will need your table and linens
Stephenson's Natural Healthcare Method
Honoring the Belly – 12 hour class
Honoring The Belly 12 hours  – NCBTMB or ADoH approved fro two days of Continuing Education classes
Creative Healing application for the digestive system
What is the Digestive tune-up?
Discussion of how abdominal massage may help low back pain
How this is used during pregnancy
Thoughts on diabetes, fibromyalgia, depression,  celiac disease, gluten intolerance,
yeast overgrowth  and other digestive issues
Abdominal toning
Gallbladder
Liver
Pancreas
Needs for class – linens, table, breast drape for women, hand towel,
Demonstration with Lots of hands on experience as always!
Honoring the Breath – 12 hour class
Creative Healing applications for the Lungs and HeartMr. Stephenson's ideas on breathing and how the lungs work.
Mr. Stephenson's thoughts about tight clothing and chilling the lungs
Brief refresher on the anatomy of breathing
Relax the shoulders – free the breath
Relaxing and engaging the diaphragm
Educated breathing and how to re-educate your client.
Issues of the mid-back
Understanding the way ribs move
Demonstrations of the quarter turns along the spine
needs for class – linens, table, breast drape for women, hand towel, oil.
Therapeutic Stretch Class
Therapeutic Stretch – 6 hour class – Arkansas Department of Health approved only
I love this class and it is broken up into two parts
Part 1 is for the therapist. Let's learn those holding patterns you have as a therapist or other activities you do on a regular basis and find stretches that will target those problem areas for you.
Part 2 is for your clients. Using soft tissue release and other active and passive stretches I will show you ways to stretch the client while on the table.Needs for class: day 1 soft clothes you can stretch in, a blanket or yoga mat for the floor, Day 2 you will need your table and linens.
and no we won't be throwing each other into the air, but its a cool idea!
Class registrations
Classes with Brenda:
Payment 100 hour Creative Healing 2022 $2500.00
Payment 6 hour Beyond Basics Head and Neck $150.00
Payment 6 hour Beyond Basics Shoulders and Arms $150.00
Payment 12 hour Hips, Back and Sciatica $275.00
Payment 18 hour Creative Healing for Women class- 2022 $450.00
Payment 18 hour Creative Healing for Prenatal clients- $450.00
125 hour Elite Massage Class
This class will give you a certificate for Creative Healing as well as give you additional hours in pathology, medications and lymphatic massage.
125 additional hours required by the Department of Defense for the interstate license.  This is now available for those who would like to upgrade their licensing credentials.