It takes a Village
Our commitment to individual growth includes people, community and time outdoors being connected to our incredible natural world.  Massage is a wonderful modality and it can help a wide variety of physical issues.  Spiritual issues are different and having a strong connection to other people and the natural world around us is crucial.  Join our community of like minded generous and compassionate people and we will all grow together and create a better planet, even if its just where we are at this moment.
Shane Logan MMT 1999 graduate of White River Instructor at BBSM
Shane teaches the deep tissue and myofascial unit at the school.
Over 20 years as a therapist, spa director,  work with athletes at the Univerisity of Arkansas and his own practice gives Shane a wide variety of experiences to share and teach from.  His classes are engaging, informative and give students new eyes to see their clients.
Beyond general Swedish and relaxation massage, Shane's work is truly therapeutic.  He has his own practice in Springdale, Arkansas.
479-841-6878
Misty Hudspeth LMT licensed Midwife 1998 graduate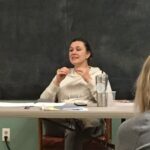 Misty is passionate about her career as a licensed midwife with over 30 years of experience.  She also has over 24 years as a massage therapist and is thrilled to be able to share her knowledge with our students.  Clinical massage with her prenatal clients gives our students some amazing experience most other school's are not able to offer.
She can be found at Ancient Birth Traditions in the office right next to the school
Brittany LIttle LMT graduate 2018 BBSM
Brittany Little lives in Prairie Grove, Arkansas, and does massage part-time.
She specializes in Deep Tissue massage.
She works as Massage On Main, 111 Buchanan St.  Prairie Grove, AR 479-856-2625.
Valerie Haight LMT graduate 2019 BBSM
Located inside Sachet Salon at 121 Industrial Park Rd. Harrison, AR 72601
870-391-1504
Bronte Stewart LMT graduate 2019 BBSM
Bronte` Stewart brings her years of compassionate work as a counselor into her massage practice.
As a therapeutic therapist, she does excellent work.  Her office is in Fayetteville, AR.
479-966-5010
Cathy Jaimison LMT graduate 2020 BBSM
Cathy Jamison opened her own business which she shares with other therapists in Harrison, Arkansas.
The beautiful shared space is newly renovated and also provides an area for classes.
https://www.facebook.com/getahhhmassage
870-391-9040.
Brendan Maxwell LMT graduate 2019 BBSM
Brendan has his own business and also works at Lavida in Rogers, AR
501-425-0469
Jennifer Murray LMT graduate 2019 BBSM
Jennifer presently works in Branson Missouri at Foot and Bucket.  She loves the spa side of things.
Alison Taylor LMT graduate 2020 BBSM
Alison has worked at a couple of physical therapy businesses as a massage therapist but is presently working for herself in Fayetteville, and Blake Street House in Bentonville, Arkansas.
573-239-2762
Skyler Pike LMT graduate 2020 BBSM
Skyler is presently working at Solace Day Spa in Fayetteville, Arkansas
As an extreme athlete himself, he works with deep tissue massage and myofascial techniques to decrease pain and structural disfunction.
Cody Lucas LMT graduate 2020 BBSM
Cody is interested in therapeutic and performance massage. We will add information when we know where he is available for massage appointments.
Jeff Ward LMT graduate 2020 BBSM
Jeff Ward LMT
The Organic Wizard Massage Therapy Clinic
216 E Township Suite 102B
Fayetteville, AR 72203
Tanya Tracy LMT graduate 2020 BBSM
Tanya is currently working as a nail tech and a massage therapist at the New Moon Spa in the Crescent Hotel in Eureka Springs.
Jianwen Ren LMT graduate 2020 BBSM
Dual-licensed as a nail tech and massage therapist Jane is taking appointments on a limited schedule in Fayetteville, AR.
479-306-1973
Daria Barerra LMT 2021 graduate
Daria has her own massage business near Rogers, AR.
She can be contacted at 479-445-3557.
Derrick Dohmen LMT 2021 graduate BBSM
Derrick is an athlete and interested in performance massage.  We will update his information when his work location is known.
He also teaches part of our business class in ethics and insurance options.
Emily Dykstra LMT 2021 Graduate BBSM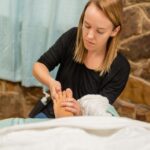 Emily is interested in a spa type atmosphere for her clientele.  We will update her information when her work location is known.
Julia Chandler 2021 graduate BBSM
Julia is excited to begin her massage career in Colorado soon.  We will update her information when her work location is known.
Kimberly Floyd LMT 2021 Graduate BBSM
Kimberly will be working as a massage therapist in St. Louis, Missouri.  We will update her information when her work location is known.
August Widner 2021 Graduate BBSM
Brandy Jennings 2021 Graduate BBSM
Geok C. (Esther) Cheok 2021 Graduate BBSM
Katie Evans 2021 Graduate BBSM
Karissa Hobbs 2021 Graduate BBSM
Milas Hudspeth 2018 Graduate BBSM
Sita Scott 2018 Graduate BBSM
Gregory Schwarzbach LMT 2018 Graduate BBSM
Christina FritchieLMT 2019 Graduate BBSM
Linda Marton 2019 Graduate BBSM
Kim Finck 2019 Graduate BBSM
Amanda Eddy 2019 Graduate BBSM
Tara Jo Corbino LMT 2019 Graduate BBSM
Brooke 2019 Graduate BBSM
Jonathan Garduno 2021 Graduate BBSM
Lexy Diaz 2021 Graduate BBSM
Racheal LaGrue 2021 Graduate BBSM
Graduates and Instructors