It takes a Village
Our commitment to individual growth includes people, community and time outdoors being connected to our incredible natural world.  Massage is a wonderful modality and it can help a wide variety of physical issues.  Spiritual issues are different and having a strong connection to other people and the natural world around us is crucial.  Join our community of like minded generous and compassionate people and we will all grow together and create a better planet, even if its just where we are at this moment.
Shane Logan MMT – Instructor at BBSM
Shane teaches the deep tissue and myofascial unit at the school.
Over 20 years as a therapist, spa director,  work with athletes at the Univerisity of Arkansas and his own practice gives Shane a wide variety of experiences to share and teach from.  His classes are engaging, informative and give students new eyes to see their clients.
Beyond general Swedish and relaxation massage, Shane's work is truly therapeutic.  He has his own practice in Springdale, Arkansas.
479-841-6878
Misty Hudspeth LMT licensed Midwife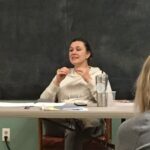 Misty is passionate about her career as a licensed midwife with over 30 years of experience, She also graduated from the Northwest Arkansas School of Massage in 1998.  She is thrilled to be able to share her knowledge with our students and teaches our unit on prenatal clients.  Clinical massage with her clients gives our students some amazing experiences most other schools are not able to offer.
She can be found at Ancient Birth Traditions in the same building as the school.
Jamie's Therapeutic Massage
Jamie Sanders has been doing massage since 1999.
She loves doing spa treatments and has worked at several spas in Arkansas.  Her office is in north Fayetteville, Arkansas and you can contact her at 479-601-1922.
Jonna Townsend LMT/ licensed Esthetician
Jonna has a license as both a massage therapist and an esthetician and she works at Blake Street in Bentonville, AR.
John Brochu MTI
John is a licensed massage therapy instructor and has taught classes at the school in Sports Massage, Stretching and Communications.
As a certified hypnotist, with a business in Fayetteville, Arkansas for many years.
John has been kind enough to do group hypnosis sessions for our students with test anxiety.
See him at Brochu Hypnosis Center
Jamie Todd Thompson LMT graduate 2017
Jamie graduated from the school in 2017 and is dual licensed as a massage therapist and esthetician.  She has her own practice in Springdale.
https://www.facebook.com/jamiethompsonesthetics
Brittany LIttle LMT graduate 2018
Brittany Little lives in Prairie Grove, Arkansas, and does massage part-time.
She specializes in Deep Tissue massage.
She works at Massage On Main, 111 Buchanan St.  Prairie Grove, AR 479-856-2625.
Valerie Haight LMT graduate 2019
Valerie's office is located inside Sachet Salon at 121 Industrial Park Rd. Harrison, AR 72601.  She recently completed training with Dr. Gowri Motha ObGyn in England for Gentle Birth Method for working with Creative Healing massage and prenatal clients.
Call her at  870-391-1504
Cathy Jaimison LMT graduate 2019
Cathy Jamison opened her own business called Get ahhh Massage which she shares with other therapists in Harrison, Arkansas.
The beautiful shared space is newly renovated and also provides an area for classes.
870-391-9040.
Brendan Maxwell LMT graduate 2019
Brendan and his wife Erin share a massage business and you can contact him at.
501-425-0469
Jennifer Murray LMT graduate 2019
Jennifer presently works in Branson Missouri at Spa02 in Branson, MO.
We recently took a massage cupping class together and had so much fun.
Bronte` Stewart LMT graduate 2019
Bronte` brings her years of compassionate work as a counselor into her massage practice.
As a therapeutic therapist, she does excellent work.  Her office is in Fayetteville, AR.
479-966-5010
Skyler Pike LMT graduate 2020
Skyler is presently working at Solace Day Spa in Fayetteville, Arkansas
As an extreme athlete himself, he works with deep tissue massage and myofascial techniques to decrease pain and structural disfunction.
Alison Taylor LMT graduate 2020
Alison has expericence doing therapeutic massage at a physical therapy clinic.
Presently she is working at Blake Street House in Bentonville, Arkansas. 
Personal phone number is 573-239-2762
Cody Lucas LMT graduate 2020
Cody is interested in therapeutic and performance massage.
He is doing massage part-time including onsite chair massage.
479-387-7854
Jeff Ward LMT graduate 2020
Jeff Ward LMT
216 E Township Suite 102B
Fayetteville, AR 72203
Tanya Tracy LMT graduate 2020
Tanya is currently working as a nail tech and a massage therapist at
the New Moon Spa in the Crescent Hotel in Eureka Springs.
Jianwen Ren LMT graduate 2020
Jane is dual-licensed as a nail tech and massage therapist and is taking appointments on a limited schedule in Fayetteville, AR.
479-306-1973
Daria Barerra LMT graduate 2021
Daria has her own massage business near Rogers, AR.
She can be contacted at 479-445-3557.
Kimberly Floyd LMT Graduate 2021
Kimberly will be working as a massage therapist in St. Louis, Missouri.
She has begun her own business and you can find her at the St. Louis Wellness Center
Brandy Jennings LMT Graduate 2021
Brandy has opened her own massage business near Harrison, Arkansas called Hazelwood Therapeutic Massage
She completed the 100-hour Creative Healing class with Brenda Schwarzbach in 2021.
Katie Evans LMT Graduate 2021
Katie Evans is working as a massage therapist in Tulsa, Ok
Her phone # is 918-895-0611
Lexy Diaz LMT Graduate 2021
Lexy is the owner of Kokoro Sports in Fayetteville, Arkansas where she's a health coach as well as a massage therapist.
Lexy also completed the 100-hour Creative Healing class with Brenda Schwarzbach and the Gentle Birth Method class with Dr. Gowri Motha ObGyn so she can have the tools to help prenatal clients.
August (Gus) Widner LMT Graduate 2021
Gus graduated in May of 2021.  She is presently working at LaVida in Fayetteville, AR and loves it.
Gus completed the 100-hour Creative Healing class with Brenda Schwarzbach in 2021.
Cindy DeWitt LMT Graduate 2021
Cindy, graduated in 2021 and she has begun Willowood Massage in Fayetteville, AR.
Becky Reed 2021 graduate
R and R Massage NWA.
Becky Reed is working at the Rogers Activity Center.
You can book an appointment with her
Kellyn Williams 2021 graduate
Kellyn is a doula and has had her own business for some time called Nest and Nourish
Soon she is able to offer massage as well.
Tracy Maze LMT
Tracy has been a massage therapist since 2000 and has an office in Springdale.
You can find her at All about You spa in Springdale, Arkansas,
Their Facebook contact page is here
Sherri Plancheon LMT
Sherri has been a massage therapist in Springdale for ma
ny years and does Swedish massage and Vita Flex therapeutic work.
She works out of Weum Health Center and her Facebook page can be found here. 
479-750-7776
Julia Chandler graduate 2021
Julia is working as a massage therapist in Colorado.
Derrick Dohmen LMT graduate 2021
Derrick does event massage for athletes and teaches part of our business class.  He also has his own insurance and investment business.
Therapods Float Spa
Therapods Float Spa is a great place to work and they are supporters of the school.
Check out their magnesium float tanks.  They have also hired our graduates in the past.
BodyWorks Fayetteville
BodyWorks in Fayetteville supports the school and our students.  It's a great place to work.
Blake Street House
The school has done events at Blake Street a couple of times and the wonderful atmosphere and the amazing staff are fun to be around.  Check out their membership only facility including a spa in Bentonville, AR.